Department
Biochemistry is a branch of medicine which deals with energy metabolism, nutrition and their association at molecular levels. Biochemistry plays an integral role in diagnosis of various diseases using an array of lab investigation. Our department has highly dedicated faculties and in a happening place of various research activities for MBBS, MD students and teaching faculties.
We have well equipped UG (MBBS) laboratory, PG and research laboratory catering to needs of MBBS, MD, AHS and Nursing students. Our department has graduated more than 1500 MBBS and many MD students and we have active mentorship and research activities like ICMR-STS too.
The Central Service Laboratory located in hospital has Biochemistry division and it is equipped with high end Auto Analyzer, Hormone and Electrolyte Analyzer, where high and prompt quality services are offered to patients at affordable cost. We strive to create a caring and friendly environment for the students.
The motto of our department is to provide wholesome education, imparting professionalism and ethics in creating DOCTORS FOR THE FUTURE WORLD.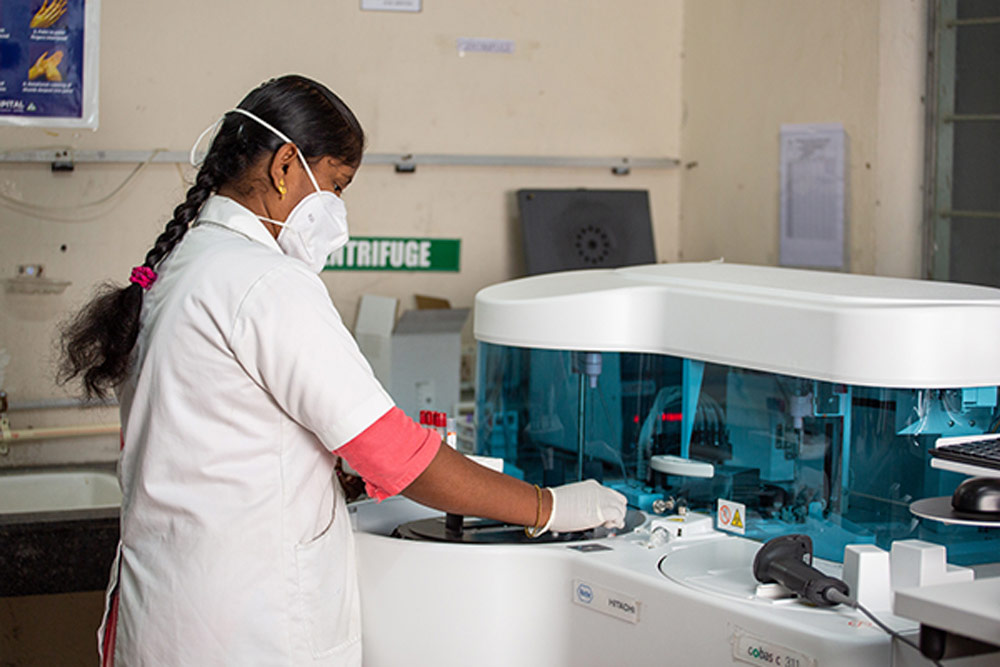 Facilities & Services
Under graduate students laboratory: First-year MBBS students are trained here to perform biochemical investigations on patients' blood, urine, and other fluids, which help them to diagnose many diseases.
Research laboratory: The faculty members and students carry out experiments as a part of their research activity. Also, method validation, special biochemical investigations that are not routinely done in the hospital lab to extend support to patient care (hemoglobin electrophoresis to diagnose diseases like thalassemia, sickle cell disease, etc. P2lasma protein electrophoresis to diagnose multiple myeloma, etc.) are performed. The students here are exposed to equipment and procedures of higher academic value.
Seminar room cum department library: A small library of collection of books and journals in fields related to biochemistry is maintained here. These are used for reference by faculty and students. This room is used for holding departmental seminars, presentations, academic and research discussions as well as individual faculties reading room.
Medical education programme.
Theme – Alzheimer's disease.